My show opening was last Thursday, March 1st. Whew! Twenty five paintings imagined, painted, signed, damared* (is that a word?), framed, and hung. The North River Arts Society sponsors the show, and thankfully they take care of all the details outside of the artwork. Thank you Sally Dean Mello for showing me how to hang a show, and many thanks to Christine Bodnar for bringing food and beverage for the Opening Reception. (*I typically apply a light coat of Damar Retouch Varnish, Gloss to my paintings as a final finish.)
The evening was particularly special to me because my two 'Southern Sisters' traveled to Boston to attend the Opening Reception and stayed for a visit through the weekend. What a wonderful time we had! I haven't laughed that much in a long, long time, and it was great.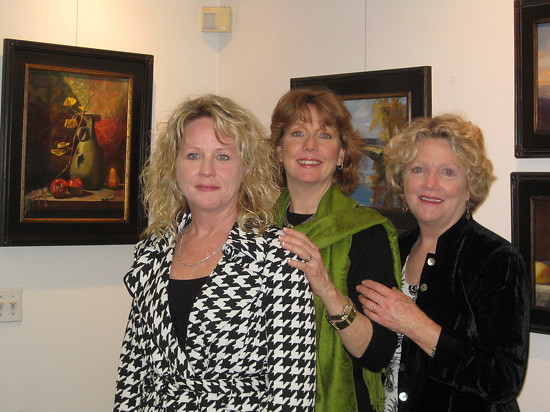 My sisters Gayle Sandeford and Susan Roark live near Baltimore, MD, and Charleston, SC, respectively. Both locales are excellent plein air painting spots so I feel a road trip in my future...and yes, I am the middle child.
My husband and two teenage daughters (Al, Kristen and Jenny) often endure my paining tales and foibles, and they were also considerate to attend and provide emotional support to me for the Opening Reception. Al has been more than kind to support my painting and works very hard to keep me supplied with canvases and paint, for which I will be forever grateful.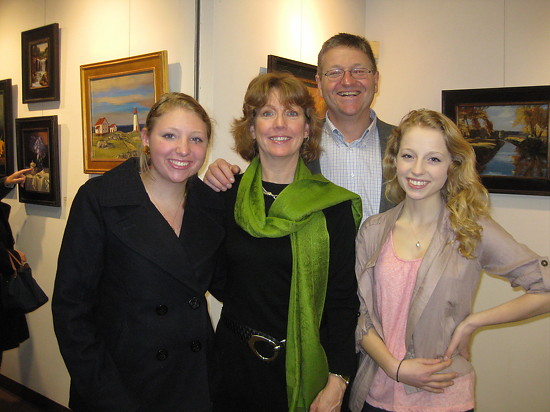 Many thanks to my friends and painting buddies who attended the reception or will view the show until April 21st. I truly appreciate the kind words of encouragement!
I am so grateful for art and all that it brings to my life.