Just pencils, but TSA may not like these!
Back to school for me! I just finished my second 'real' drawing class at the Academy of Realist Art in Boston. They offer many programs and I've chosen the Introductory Bargue Drawing Class, which ends April 30th. I've never had any formal drawing instruction, and am thrilled to have this option locally.
Click here to go to their website if you are interested.
Last week I learned how to sharpen and hold a pencil, something I thought I already knew. They have a unique approach, as you can see from the photo below. The process is that you gently grasp the pencil down toward the blunt end and draw your image using 'ghosty, bandy' lines instead of a hard, drawn line.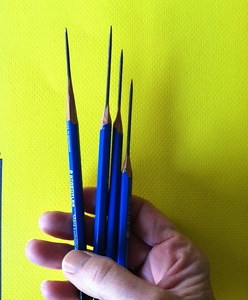 The expectation of the instructor is perfection when you work to copy a master drawing. Instead of the normal 'wing it' mode I usually use when drawing, they ask us to use a knitting neede as a guage and measure each line as it it copied, with accuracy to a 32nd of an inch. Painstakingly slow, but highly accurage.
What I've learned also is to pay acute attention to the shapes of anges and curves as they are copied (no pun intended). That is, instead of my typical 'oh, that's pretty close, I'll move on...' attitude, now I'm shooting for perfection.
Patience isn't my strongest virtue, but I know that these classes will improve my art and my patience as well.
Unfortunately, my time for painting is cut down quite a bit, but I'll continue to post as I work at my easel.
Thanks for viewing my blog. : )