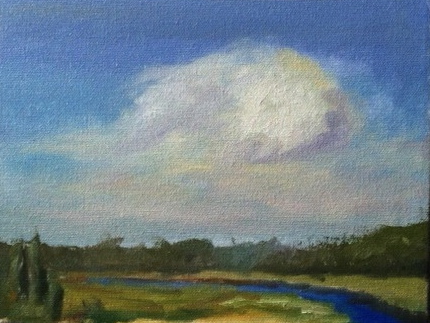 I am reposting a blog post I wrote back in December because it's a useful guide for painting plein air, which a lot of artists are doing now that the weather is warm and sunny.
I created this painting demonstration and storyboard for an local community group back in December. (I am always happy to talk and teach others about painting, so please contact me if you or your group would like a demonstration such as this! Just email me through my website.)
As a demonstration tool, I created a story board, showing the stages I go through to create a generic landscape painting. (It's actually a view of the South River, from the Rexhame beach area. I know it quite well.)
I simply taped off four areas on a 16x20" canvas, giving me approx 8x10" panels to paint upon. Here's the final demonstration board: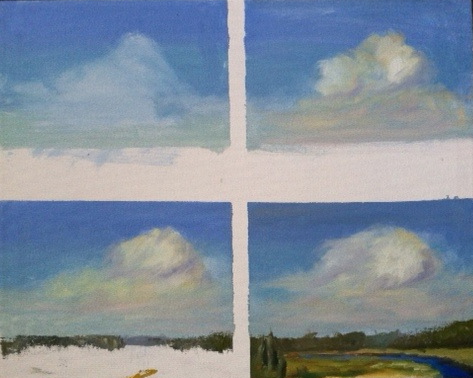 Let me walk you through the steps to create a landscape painting such as this.
Shown below, first I painted the sky background, cool at top, warmer and lighter in value as you go down. This gives you the illusion of distance. Paint colors used were altramarine blue (at the top), cobalt blue (in the middle) and cerelean blue (at the bottom). These were mixed with white and a little naples yellow, to replicate the effect of sunshine.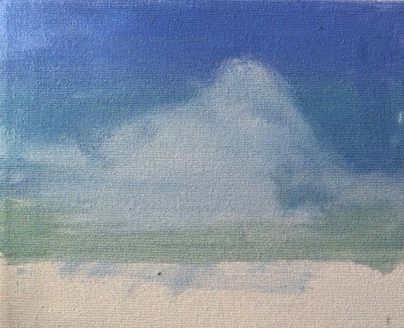 I took a paper towel and wiped away the background paint, cleaning the canvas so that I could paint the clouds.
To paint the clouds, I painted the warm or sunlit areas of the clouds.
The part closest to you is the warm and it gets cooler (orange and red) as you recede back and down.
Approaching the horizon it's quite light and grayer. This also gives the illusion of distance.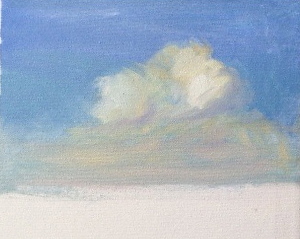 Next I blocked in a treeline, including some quite a long distance away (the lavender area). I always mix my greens, so blues, yellow, orange and even red are used, depending on the value that I'm looking for. As you can see, the value is quite dark in the foreground trees, and lightens in the farthest treeline. This is important to create that feeling of distance.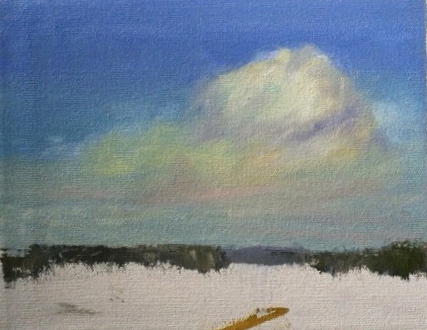 Lastly, I added the foreground and a river receding back and to the left.
The foreground is the highest chroma (brightest colors), and the colors grey and lighten as you recede.
The river is darkest and cool in the foreground, and lightens and warms as you recede. This is due to the reflection of the sky. Foreground is reflecting directly above you, and as you recede the atmosphere lightens it.
I added some cyprus trees on the left, breaking up the horizontal bands of the landscape.