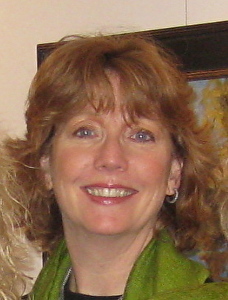 Julie Uhler's lifelong love of art inspired a personal renaissance of sorts. Throughout her accomplished career in marketing, and while raising her two daughters, she felt continually beckoned by the beauty and intrigue of oil painting. Since she had no previous art training, she sought guidance at the North River Arts Society, one of the South Shore's leading arts education institutions.
Julie has also participated in workshops with renowned oil painters Tim Bell, Qiang Huang, and Carol Marine. Julie is currently studying at the Academy of Realist Art, Boston.
Using oils, Julie paints both still life and landscapes. She enjoys the creative thrill of setting up a still life to capture the light and emotion of the scene and then reinventing the composition on her canvas.
Along the way, Julie's artistic awakening has coincided with her faith journey as an Episcopalian: both have provided her with opportunities for deep reflection, introspection, and appreciation.
When painting, she doesn't set out to copy objects or scenes; rather, her intention is to restate their heartfelt beauty in oil paint. It is this process of capturing and translating emotions, and of conveying the essence of a scene or object, that keeps Julie coming back to the easel.
Julie has won several local awards and participates in area Member and Juried art shows. Julie was invited to join the Board of Directors at the North River Arts Society in Marshfield, Massachusetts.
Selected Exhibits:
North River Arts Society/Annual Festival of the Arts
Duxbury Art Association / Duxbury Art Complex
South Shore Natural Science Center
Pembroke Public Library
SOWA Samson Project, South Boston
Memberships:
North River Arts Society, Marshfield Hills
South Shore Art Center,Cohasset
Scituate Art Association
Duxbury Art Association
For additional information about Julie's artwork and artistic process, please visit her blog (click here to go to blog).
Outside the studio, Julie can be found raising her two teenage daughters and strolling the beautiful beaches of Marshfield.